Highlights Workforce Development and Career and Technical Education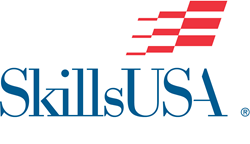 SkillsUSA is essential to addressing the skilled trades job gap with the hands-on expertise and talent these careers require
Leesburg, Va. (PRWEB) February 02, 2017
Thousands of local SkillsUSA chapters are joining more than 50 state associations for SkillsUSA Week Feb. 5-11, 2017. The annual celebration, presented by Carhartt, represents over 300,000 SkillsUSA members nationwide and promotes career and technical education (CTE). The week highlights the benefits of the SkillsUSA program in developing personal, workplace and technical skills grounded in academics. More than 4,000 schools are expected to participate this year.
SkillsUSA Week activities include presentations to administrators, business leaders and legislators; school tours and open houses; community service events that benefit local charities and organizations; interviews with the media; student-led rallies and campus outreach; and industry partnership development. SkillsUSA Week is held the second week of February each year in conjunction with Career and Technical Education Month.
Read more...
2016 Updates for Minnesota Competitors attending the
SkillsUSA National Leadership and Skills Conference
SkillsUSA heads to Louisville, Ky., June 20-24, 2016, for the 52nd annual National Leadership and Skills Conference (NLSC), a showcase of career and technical education students. More than 16,000 people — including students, teachers and business partners — are expected to participate in the weeklong event.
Read more...
Mounds View High School Awarded Lowe's Tool Box for Education Grant
Lowe's Charitable and Educational Foundation has awarded an $8,000.00 Lowe's Tool box for Education grant to
Mounds View High School for the purchase of I-pads to be used in Career Education classrooms and also SkillsUSA Leadership.
Read more...
T-Shirt Design Contest
To celebrate the 50th Anniversary of SkillsUSA Minnesota, every member who attends the Minnesota Skills & Leadership Conference will receive an limited edition t-shirt. We need your help to design it! Submit your idea for a 50th anniversary celebration t-shirt for a chance to see your design become the official conference t-shirt.
Kennedy Students from SkillsUSA bring Project Santa to Tubman Shelter
Kennedy High School students from SkillsUSA, a career and technical skills association and competition, delivered Project Santa to the Tubman shelter in St. Paul on Wednesday afternoon, December 21, 2011. The project was started in 2004 and each year Kennedy SkillsUSA students raise money for small gifts and a party for families staying at the shelter. Sixty stockings filled with small games and toys for young children, six gift cards for teens and thirty-two gift baskets for mothers were handed out to the families using the shelter. The shelter also received a $170 cash donation from the students. Tubman is the state's largest provider of domestic violence services, with over 20% of all Minnesota shelter beds for women and children experiencing family violence.
Click here to go to The Bloomington Crow website to read the full article.
<<

Start

<

Prev

1

2 3 4 Next > End >>


Page 1 of 4