Welcome to SkillsUSA Minnesota
SkillsUSA Mission Statement:
To help its student members become world-class workers and responsible American citizens.
SkillsUSA Minnesota is part of a national organization that serves over a quarter million student members annually, organized into more than 14,700 chapters and 54 state and territorial associations (including Puerto Rico, Guam and the Virgin Islands). The Minnesota Association has offered leadership opportunities to over 200,000 student members since 1967, with a current annual membership of over 3,000. There are chapters in 29 technical colleges and 50 high schools or cooperative centers, with potential to serve many more. SkillsUSA is governed by a Board of Directors, elected from teachers that advise local chapters, and representing both the high school and college divisions and industry representatives. All programs are offered as integral to the curriculum.
Read more...
Highlights Workforce Development and Career and Technical Education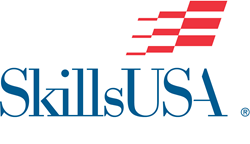 SkillsUSA is essential to addressing the skilled trades job gap with the hands-on expertise and talent these careers require
Leesburg, Va. (PRWEB) February 02, 2017
Thousands of local SkillsUSA chapters are joining more than 50 state associations for SkillsUSA Week Feb. 5-11, 2017. The annual celebration, presented by Carhartt, represents over 300,000 SkillsUSA members nationwide and promotes career and technical education (CTE). The week highlights the benefits of the SkillsUSA program in developing personal, workplace and technical skills grounded in academics. More than 4,000 schools are expected to participate this year.
SkillsUSA Week activities include presentations to administrators, business leaders and legislators; school tours and open houses; community service events that benefit local charities and organizations; interviews with the media; student-led rallies and campus outreach; and industry partnership development. SkillsUSA Week is held the second week of February each year in conjunction with Career and Technical Education Month.
Read more...
T-Shirt Design Contest
To celebrate the 50th Anniversary of SkillsUSA Minnesota, every member who attends the Minnesota Skills & Leadership Conference will receive an limited edition t-shirt. We need your help to design it! Submit your idea for a 50th anniversary celebration t-shirt for a chance to see your design become the official conference t-shirt.